The Legend of Zelda: Twilight Princess
Idag är det exakt 10 år sedan The Legend of Zelda: Twilight Princess lanserades i Sverige.

The Legend of Zelda: Twilight Princess (förkortat TP) är en titel på ett spel utvecklat av Nintendo. Spelet är det tolfte i Zelda-serien och släpptes till Nintendo Wii den 8 december 2006 och till Nintendo GameCube den 15 december 2006. Spelet anses vara Nintendos största och faktiskt sista satsning till Nintendo GameCube, då detta var det sista spelet som Nintendogjorde till konsolen, så detta spel blev slutet för Nintendo GameCube och starten för Nintendo Wii.

Twilight Princess är även släppt till Nintendo Wii, där spelaren kan använda den nya rörelsekänsliga kontrollen. Noterbart är att det finns två versioner av samma spel, en version av spelet till Nintendo GameCube och som är den riktiga versionen då det från början var tänkt till Nintendo GameCube och en till Nintendo Wii.

Spelet skulle släppts redan 2005, men lanseringen blev uppskjuten först till våren 2006 och sedan till det slutgiltliga som blev hösten/vintern 2006 istället. Under slutet av 2004, då spelet gick under namnet Zelda 2005, spreds en bild från E3, där Shigeru Miyamoto presenterade det nya Zeldapselet under namnet The Legend of Zelda: Gates of the Realm. Spelet blev runt samma tidpunkt även kallat för The Legend of Zelda: Reigns of Sorrow. Båda namnen visade sig senare vara falska och bilden från E3 visade sig vara förfalskad.
Boxart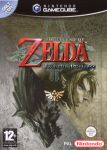 Bilder